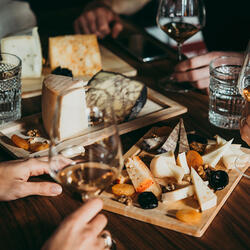 Melbourne is a cheese lover's heaven - and if you're anything like us, we're always on the hunt for a winning cheese board. We're here to help you sniff out some of Melbourne's best cheese (the smellier the better right?).
Here are some awesome dine in/DIY cheese boards!
Image: Richmond Hill Cafe & Larder, Richmond
Richmond Hill Cafe & Larder, Richmond
It's easy to be cheesy at Richmond Hill Cafe & Larder, a historic little cafe that has its own onsite cheese room stocking some of the best cheese outside of France. Enter the cheese room, choose your bites and wait for them to be delivered to your table - or your door! Book now.
Cheese and wine is just what the doctor ordered, and at Dr Morse they're serving both. Inside this cool, hipster style venue they're serving a cracking cheese board served with lavosh, fruit bread, relish and fresh fruit - whether you like it soft, smelly or holey, the Dr has it all. Book now.
If you heart cheese cheese then you have probably already been to Neighbourhood wine a couple of times, but we'll give you the run down anyway. This old school wine bar is a real beauty, boasting quality French style cuisine without the price tag and an extensive handcrafted drinks list, this place is hard to fault. We can't name all of their cheese options because their are just too many, but we can tell you that you can multiple portions accompanied by  housemade bread and butter pickles, muscatels, fresh fruit, seeded lavosh and oatcakes. Book now.
Those who would rather savory than sweet at the end of a three course meal should check out Saint Urban. Saints and sinners will go mad for their excellent dessert cheese selection where you can hand craft your own artisan cheese plate. Enjoy. Book now.
Finish a gorgeous meal at Punch Lane (a Melbourne institution) with one of their premier cheese boards. The selection of artisanal cheeses changes regularly (look to the blackboard), and the board comes with house made sourdough, crispbread and accompaniments - create your own plate! Book now.