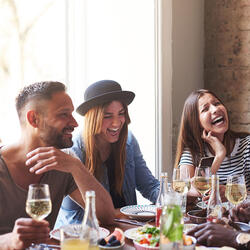 Image: Queen Street Rescue, Melbourne
If you want great pizza, at an affordable price, that doesn't compromise on flavour then Gradi Crown is the place to find that happy medium. A Margherita will set you back $21, while a Frutti di mare with San Marzano tomato, fior di latte, Queensland prawns, mussels, clams, scallops and rocket is $28. The rest range somewhere in between. If you're looking to save a buck or two don't even look at the pastas and mains. Pizza is where you must stay.
It's Tuesday at 5pm. You're hungry, you can't be bothered to cook but you don't know where to eat, and you don't want to spend too much money. The solution? Grab a cheeky $20 note and head to The National for a wagyu, fish, chicken or vege burger - all served with fries. It will satisfy and keep the tummy full. Plus you get to sit in this super cool venue to eat - no complaints here.
For a knock off feed after work stick your head into Doutta Galla for a burger fix - order off the menu or build your own. If you're in the mood for something else, the budget will be pleased because there are only a few exceptions which creep above the $20 mark.
My-oh-my this menu has it all. If you're needing a carby fix of pasta, pizza or anything with meat you need to stop by Nat's Place. Cheap eats have never tasted so good!
Iconic Melbourne eatery, The Local embodies everything that a 'local' should be: icy cold beers, live sport (need we say more boys) combined with delicious, affordable pub meals.
City folk listen up, this may just be your new local. Serving up your traditional pub food, stop by for a burger or something more in the way of Smoked King Ora Salmon and wash it all down with a brew from their extensive beer bible.
Introducing Melbourne to this hip urban space, Queen Street Rescue dishes out contemporary Australian fare with unique flavour combinations. What's more? They have specials on every night of the week! Try parma and beer or maybe pasta and pinot. We love affordable and downright delicious food.
Oh how we love a good pub! They are just damn good value - not too pricey, not too cheap, but just right. At The Railway there are plenty of meals that hover around the $20 mark - you'll even get change back if you order wisely. We love the $14 parmas on Tuesdays.