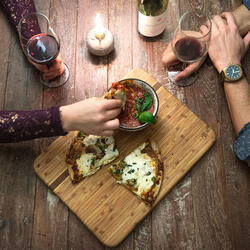 8 out of the box date ideas in Melbourne
If you're struggling to come up with a creative, out-of-the-box date idea check out our ultimate dating playbook with a list of eight great date ideas in Melbourne that are anything but boring!
Image: Republica, St Kilda
A weekend getaway for two
A weekend getaway definitely spells romance and what better place to go than the Mornington Peninsula? Start in the morning and take a long lazy drive along the coast stopping in at cafes, local art galleries and markets... maybe diverting to the Peninsula Hot Springs in the afternoon? When night falls head to Pebbles Restaurant where you'll be treated like a languorous film star. The Modern Australian menu is decadent and the stunning views and opulent surrounds spell L.O.V.E.
Get cultural!
If your date loves the arts and food then we've got an ideal date plan. Pack a lunchtime picnic and head to Queen Victoria Gardens - lounge in the sun, chat and enjoy the great outdoors. Then head to a matinee performance in the nearby Arts Centre - there's always lots to see and the matinee time slot is often cheaper/more casual. After the show stroll over Princes Bridge towards the CBD and grab a drink at Taxi Kitchen in Flinders Square before heading to Lee Ho Fook for dinner. It's classy and upmarket with really incredible food.
A classic: dinner and a movie
This one's an oldie but a goodie. Head to Melbourne's South East and spend a cruisy afternoon wandering around Prahran and Chapel Street. Start with a quick coffee and a mosey in Prahran Market, then stroll down Chapel Street, poking your head in a few shops before catching a film at The Astor Theatre - a beautiful old school cinema that shows classics and select new releases. After the movie keep grab a table at L'Hotel Gitan a beautiful, authentic French restaurant. The wine is incredible and the menu is even better, we love the delice cheese souffle and Gitan steak tartare.
Take a romantic Saturday stroll
Get out and about this Saturday and take your love to Richmond. Start with a late morning trip to Gleadell Street Market and watch the local street vendors spruik their wares while you purchase some fresh snacks. Then get your heart rate up at Clip 'n' Climb, a wacky, new-age rock climbing centre which is both fun and challenging. Get close and help each other climb that wall! Afterwards pop into The National Hotel for a drink and a wind down before heading to Saint Urban for a relaxed, European-bistro dinner. This place is super trendy and great fun. Does this sound like the date for you?
A hole in one
If you and your partner are a little bit sporty then this is the date for you. Trip to Malvern Valley Public Golf Course, take a class or play your own game and enjoy the sunshine. Afterwards head to Remy Bar de Tapas Y Vino on Malvern's main strip - this is said to be the best tapas in town. If things are going well and you don't want the date to end you can also book a table at nearby Sagra for dinner - sit up at the bar and enjoy a relaxed bowl of linguini mare - good luck!
Paint the town red
There's nothing like getting dressed up and having a big fancy dinner, and Mr Wolf is just the place in which to do so. Stroll inland towards Mr Wolf where the decor, the Italian menu and the wine list are on point. The deluxe dining room is seductive and charming - perfect for a lovey dovey meal.
Drinks all around!
For those looking for a chilled afternoon/evening date we've got you covered in Collingwood. Start with a wander around The Australian Art Gallery on Derby Street, it's a mini art gallery that is stuffed full of quirky art, and after you've had a look round head to The Panama Dining and get cosy with a few cocktails and a play a game of pool.
Roll the dice
Splash out at the Crown Cassino - just because! Book a room and a day of couples pampering - how do massages and a swim sound? In the evening get dressed up and hit the casino for a cheeky roll of roulette before heading to the Merrywell for a drink on the rooftop bar. When hunger starts to kick in stroll to nearby Rosetta, a restaurant so beautiful that if this doesn't get the romantic vibes going we don't know what will.