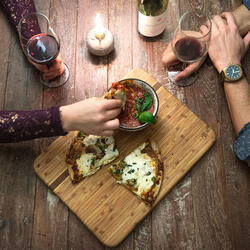 8 out of the box date ideas in Perth
If you're struggling to come up with a creative, out-of-the-box date idea check out our ultimate dating playbook with a list of eight great date ideas in Perth that are anything but boring!
Image: Lamont's Bishops House, Perth
Sun, sand and surf
Fremantle is the perfect date spot - the water, the cafes, the rambling collection of markets, the galleries and beaches - and on a sunny Saturday it can't be beat. Take your love for a day of eating and drinking… because you know the way to anyones heart is through their stomach! Start with a meander along Freo's cappuccino strip, stopping to have a poke around the Fremantle Markets. En route to lunch stop in at Monk Art Photography, it's worth a gander, then have lunch at Sweetwater Rooftop Bar - serving Asian inspired dishes overlooking Freo Port and Swan River.
Dressed to the nines!
Sometimes getting dressed up and going out for a fancy meal is just what the love doctor ordered, so put on your finest and get ready for a night of opulence and luxury. Head to the CBD and attend a matinee show at the State Theatre Centre of WA - oh how civilized! And after head to Santini Grill for a quick pre-dinner cocktail. Then take a stroll around the corner towards St George's Terrace and enjoy a delicious Italian feast at Lalla Rookh.
Bar hopping in the CBD
Get a bit boozy and a bit flirty with this custom bar crawl - designed for two! Kick things off at Belgian Beer Cafe, a buzzing 1930s-style Belgian beer cafe screening all your favourite sports. Grab a serve of spicy winglets with chilli, jerk spice & soy marinated, with chilli lime sambal and a couple of cocktails. Then wander around the corner to The Meat & Wine Co, a sleek and stylish restaurant that is all about top wines and quality food. On the way to din dins pop into the The Aviary where there's a stunning rooftop bar, and an excellent drinks list. And if you're not too full try the tapas menu at Lamont's Bishops House. It's beautiful way to end a fun day!
A weekend getaway
A weekend get away defs spells L.O.V.E.  so pack your overnight bag and head to Margaret River. There's plenty to see along the way, why don't you pop into the Margaret River Chocolate Factory? When night falls head to Leeuwin Estate, a historic winery that has earned an international reputation for making wines. The menu is impeccable, and we don't need to tell you how good the wine list is!
Swimmers and sandy toes
Now the warmer weather is setting in go on a beach date and hit Cottesloe for the day. Snuggle up with your partner on the sand, splash in the waves and grab brunch/lunch or an afternoon coffee at Vans Cafe & Deli - just make sure you save room for dinner because we've got a cracking restaurant lined up. Brush off the sand and head to Lamont's Wine Store for a couple of pre dinner drinkies. If that's not love then don't know what is!
The classic 'dinner and a movie' combo
Dinner and a movie is a classic date night combo, but it's a classic for a reason. Check out a film at the beautiful Windsor Cinema in Nedlands - there's always something good on.
Get active!
Get out in the great outdoors and go on a 'self drive' tour of Perth - this is the date for couples who love staying fit and active - as they say couples who sweat together stay together! Hire a couple of bikes, pack a a few snacks and go for a bike ride along the Swan River - the area around Banks Reserve and Bardon Park is perfect. After your ride make a beeline for Highgate's main strip where you'll go and have a naughty dessert at Must Wine Bar (the rosewater panna cotta is phenomenal)!
Oh so cultural...
For those who enjoy the finer things in life this The Perth Cultural Centre in the heart of the CBD is the go-to-place for the consumption of art and culture. Stroll through an exhibition at the Western Australian Museum, wander through the outdoor displays, water features and sculptures - just take it all in. After you've had your cultural fill head to Gazette, a sophisticated bar that offers delicious cocktails, classy in house snacks and a quality wine list. And after you've a few drinks head to Amano Restaurant for dinner. Paying homage to the style of Italy and the intrinsic food culture of Europe this sophisticated venue is the perfect way to end a sophisticated date.