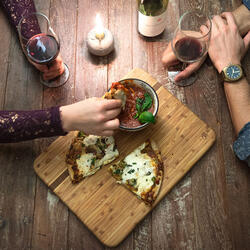 If you're struggling to come up with a creative, out-of-the-box date idea check out our ultimate dating playbook with a list of eight great date ideas in Sydney that are anything but boring!

Image: Hugo's, Manly
We're going to the zoo, zoo, zoo
Who doesn't love the zoo? Don't try to be cool and pretend that you're 'over it' and that it's 'just for kids'. We know you're lying. A trip to the zoo is a great day out for people of all ages - adults included. Perched right on the water's edge, with views of Sydney Harbour and the beautiful city, a day at Taronga Zoo is not only a fun date activity, but a romantic one too. There are elephants and chimpanzees that will make your heart melt, seal shows to watch, Sky Safari cable cars to ride and butterfly enclosures where you might even score your very own butterfly kiss. When you're all animaled out, head down to Ripples Chowder Bay for something a bit more romantic. This is a great spot for an afternoon wine in the sunshine.
Get active and sweaty - together
It has been well documented that couples who sweat together really do stay together. Exercising with a partner or partner to-be increases the bond that two people share. It often makes you more comfortable with one another and induces the symptoms of physiological arousal - sweatiness, racing pulse, shortness of breath - that drives romantic attraction. So why not sweat it out for your next date. The Spit Bridge to Manly Walk is the perfect walking track for a date. It combines exercise, sea, sun and bush - and is oh so romantical. Beginning at Spit Road and snaking around the North and Middle Harbour before finishing up at Manly Beach, this is a picturesque 10km walk that will give you two plenty of time to chat. When you arrive at Manly re-fuel at the Belgrave Cartel with a killer latte and lavish lunch. After that head to Hugos Manly for an afternoon beverage by the water on the open-air deck. If the sun starts to fade and the date is still going, your last stop for a bite to eat before calling it a night should definitely be at Sunset Sabi. This little treasure is a casual Japanese Izakaya restaurant that serves Japanese fare in creative new ways. It's fresh, funky and makes Jap all the more fun. What a date!
Be a kid again
A day at Luna Park is bound to bring back a sense of nostalgia. At least it does for us. Luna Park holds a soft spot in many people's hearts. Many of you would have ridden the mad mouse, put balls in the clowns mouth in the hope of winning a big teddy bear and gone on sugar highs from eating far too much fairy floss. Ah, those were the days. Take a trip down memory lane and be a kid for the day with a visit to Luna Park. We guarantee smiles and laughter will be shared. Set right on Sydney Harbour this is a theme park with the ultimate Sydney views. Post childish activities, you can treat yourself to drinks and dinner at some of the hot spots nearby. Within walking distance you've got Aqua Dining and The Botanist. All perfect venues to talk about how much fun you had at Luna Park as well as fond childhood memories. We're all kids at heart...right?
Travel to new heights
Love adventures and activities? Well, climbing the Sydney Harbour Bridge is one of the must-do activities in Sydney. If you have lived in Sydney for years and never climbed the bridge, it's time to tick it off your list. After all, what could be more attractive than dressing up in grey and blue onesies on a date? Not much. And boys - aside from the fact that you and your partner or date gets to take in the views of the beautiful city together, you will also get to stare at her but for hours if you let her go in front of you. Incentive much? Just sayin'...something to keep in mind. Once you're done with your physical exertion for the day why not prance in and around the city and find somewhere to eat. Grab a feed at Mejico for Mexican or Spice Temple for a bit of Cantonese/Chinese from Neil Perry and Co. All great date spots - for love that's both young and old.
Get arty at Sydney's Art Gallery
With fine International and Australian art exhibitions in one of the most beautiful art museums in the world, a date here simply can't go wrong...unless you knock something over or spill your drink on a painting. But that almost never happens...right? Just don't think about it. Entrance to the gallery is usually free which keeps costs at bay and you'll be treated to stunning views of the Sydney Harbour too. Bonus! After the gallery, follow up with a walk through the beautiful Botanic Gardens and then with a drink down at Woolloomooloo Wharf. You've got The Larder and Otto Ristorante to choose from. If the date is going well and you want to roll through into dinner, we suggest hitting up Riley St Garage. It's the perfect date place to impress with its industrial chic interior, good vibes and exceptional food. Oh and one word of advice for this date, don't pretend you know stuff about art if you really don't have a clue about anything arty.
Hop around when the sun goes down
Bar hopping. It's an oldie but a goodie for any date - particularly a first date if you're trying to break the ice...quickly. Potts Point, Surry Hills and Darlinghurst will keep you busy for hours on end, if you can handle each other for that long. We love The Butler for an Espresso Martini. But that's only scratching the surface, there are a ton of others to hop along to… you'll see. Especially if you're doing it on foot. Happy hopping!
A day at North Bondi rocks
If the weather permits why not have a day of chillaxing with a swim and sunbake on the North Bondi rocks. Start with breakie at one of Bondi's best cafes, Harry's, and then head down to the water. It might take time to find the perfect spot to lay comfortably but once settled you'll be gawking at how romantic this spot is. Away from the hustle and bustle of Bondi Beach this part of Bondi feels somewhat separated from the beach mayhem. Oh and girls, if you want to get close to his bod pretend you're drowning and he'll come and save you. Too dramatic? Nah, we don't think so. After a day in the sun head to Bondi for a drink and a feed. With loads of spots to choose from let us narrow it down for you. Find dinner at one of Bondi's hip happening eateries like Bondi Hardware. Oh what a dateee!
Under the sea
We're all for activities - and Sydney Sea Life in Darling Harbour is definitely one activity that's highly underrated. Give it a go and we guarantee you'll be an aquarium convert. With sharks, turtles, seahorses, dugongs and fish as far as the eye can see what's not to love about a trip under the sea. Tickets are on the pricer side but the money is well worth it. Spend the afternoon here and then cruise over to Pyrmont for an afternoon drink and a bite to eat.  LuMi Bar & Dining is the perfect spot for two lovers in loverville. Sitting on one of Sydney's best pieces of real estate, here you two will enjoy a casual fine dining experience with exquisite Italian cuisine with a fresh Japanese twist. Love is in the air!