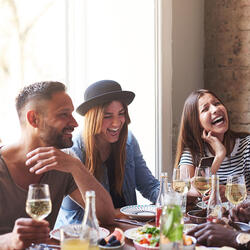 8 Perth Cheap Eat Restaurants
Image: The Best Brew Bar & Kitchen, Perth
Finding an affordable meal doesn't mean you have to compromise on quality. Case in point, The Federal Hotel. Come on Tuesdays and enjoy a $15 parmy, or dine any other day of the week for cheap eats and happy hour. We have got our eye on the $2 dumplings on Mondays.
What could be better than a big bowl of cheesy, carby goodness? Not much. There's gourmet and classic pizzas available in a bunch of different sides, all reasonably priced with some cracking meal deals in there too.
Take a trip to Lebanon by visiting the Osborne Park hotspot, Little Lebanon Cafe & Restaurant. Tuck into kofta, chicken shawarma and falafel platters without tucking into your wallet (too much).
With a menu derived from family recipes which have been handed down from generation to generation, no wonder this has become the hottest spot in Western Australia to enjoy Malaysian cuisine. With only a handful of items on the menu costing over $20 and handmade Roti available from Thursday - Sundays, this is one you'll want to try.
When a restaurant has over 350 restaurants in 15 countries, you know it must be good! Stop by Pepper Lunch in Victoria Park for lunch or dinner and enjoy your meal on an iron plate. Whether you go for chicken or beef, salmon or even eel, Pepper Lunch has something for every appetite.
Go to any Thai restaurant and you're usually treated to a mountain of fresh, fabulous food for what feels like nothing. The same goes at Paste Thai.  Hello pad thai and a kaosoy laksa. We've got our eyes on you.
Keeping things fresh and affordable is The Best Bew Bar & Kitchen. Suiting meat eaters and vegetarians, a range of tasty dishes like their charcoal chicken burger and seafood linguine that aren't priced above $25 are on offer.
We all want to be forever young don't we? Well, keeping us young with half price pizza on Wednesday and Fridays is the Cheeky Sparrow. Because the pizza is half price, we can order twice as much, right?