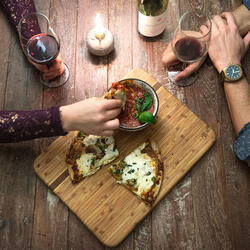 The dating game, it can be tough! Whether it's a hot new date, the all important second impression, or you're trying to reignite the flame with your significant other by introducing a 'date night', restaurant choice plays a crucial role in the success of the evening. All the right elements have to be there to set the scene for romance: drinks aplenty (free flowing almost), tasty food (with not too much garlic), friendly waiters (but not too friendly) and intimate surrounds (without being too quiet).
Pick the right romantic restaurant in Melbourne and you will score major brownie points - choose the wrong restaurant and it's safe to say that you'll end up in the bad books. To ensure you have a night of nothing but lip locking and gushy 'I love you's', book a table at one of Melbourne's most romantic restaurants. Here are a few of our faves... Just call us cupid!

Image: The Panama Dining Room, Fitzroy
After visiting this popular Melbourne Place haunt, chances are you'll leave head over heels in love, with not just your date, but with Sezar and Armenian food too! Chef Garen Maskal makes diners go gaga over his BBQ Pork with apple glaze and barberry tabouleh, as well as the Kataifi Wrapped Lamb Neck with sesame mayo.  When it comes to dates, this restaurant takes charge of Little Collins Street. The moody and intimate interior makes Sezar the big boss when it comes to 'date night'. Book now.
Come Friday night, or any night for that matter, Bomba is buzzing. This casual Spanish tapas bar and rooftop offers two hotly contested sittings a night with a handful of tables reserved for walk-ins - but don't bank on snapping up one of these table, they're often snatched up well before cocktail hour - so don't be tardi! Owners Jesse and Vanessa Gerner describe Bomba as a Spanish workers' caff, which in the local context means a frolicsome party joint with a traditional parade of small eats. The people of Melbourne are loving it - and your date is guaranteed to love it too! The low lights, groovy tunes, cherry coloured cane light shades and blackboard wine list that says "drink up" reinforces the laid back party vibe that Bombahas got going on, and the roar of a full house only adds to the upbeat atmosphere of the venue. Get stuck into the lamb chop with sheep's yoghurt sauce and you'll really be feeling the love for Bomba (and your date). Fingers crossed! Book now.
Hidden up a set of inconspicuous stairs off Smith Street, and through scuffed, heavy doors is Panama Dining Room - one of Fitzroy's most atmospheric bars. This place just screams date night! The interior is simple, yet stylish, but definitely low-key and cool with a hodgepodge of tables, lounges, bar stools and a pool table, offering views of Fitzroy, Collingwood and the CBD through giant arched windows.This feel good hidden gem serves up delicious European fare, with solid snack offerings available at the bar if you don't want to take a seat with your hot date. Book now.
This is one of Chinatown's hidden gems. At first it kinda feels like you're climbing up stairs into a forgotten attic but once you're there the space is a pleasant surprise. With bare bricks and light polished wood, this restaurant has a fresh and contemporary atmosphere... It's intimate, warm and great for couples looking to snuggle up and get cosy over a few sharing plates. The food is Modern Chinese and we know you'll just love it. Book now.
Think the Italian Coast, lots of fresh pasta. This is a great place to take your man if you're looking to spice up your love life. Get him to try the gnocchi allo zafferano: saffron gnocchi, spanner crab, sorrel and preserved lemon, he'll love you for it! Book now.
Get cosy in the depths of Little Bourke Street, a sophisticated and cozy European masterpiece. Grab a cocktail and a few sharing plates from the bar and find a dark corner... maybe you'll be able to steal a kiss or two! Book now.
Do something a little bit different and take your date out to brunch at Downstairs. Grab some buckwheat crepes with twiced cooked ham hock and soft eggs. The modern decor and relaxed vibes creates a relaxed vibe which is perfect for couples who are not looking for anything too intense! Book now.