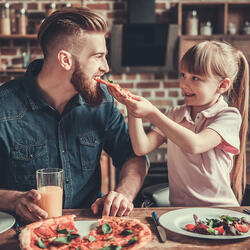 Best 8 Kid Friendly Restaurants Melbourne
They say that when you have kids you will never sleep again. They also say that when have kids you have to kiss nice restaurants goodbye, and say hello to places that serve bangers and mash. But this is simply not the case - the restaurants part that is - maybe not the whole sleep thing. To all you parents and food enthusiasts out there, you can breathe a sigh of relief because there are plenty of kid friendly restaurants in Melbourne that do a damn fine job of accommodating toddlers, high chairs and toy boxes, while still serving up tasty fare.
La Svolta is translated as 'Turning Point; and is exactly the ideal result sought after by owners and Italian natives Valerio Calabro and Giuseppe Russo who had a goal to bring everything Italian to their new home. All their recipes are passed down from family members, and the simple menu is characterised by its famous pizza. Gather up the motley crew and gorge on an Italian feast. Book now.