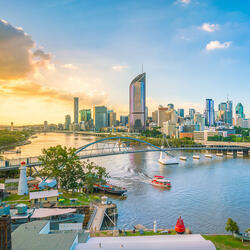 The Brisbane River cuts a strong and powerful path through the Brisbane CBD and there are many top notch restaurants which take full advantage of it. Get to one of these waterfront wonders and enjoy some of the best waterfront dining in Brisbane.
1. La Vue Brisbane, Brisbane
Rebecca said: "Wonderful food, beautiful views and fantastic service! A hidden gem."
2. Brasserie on the River, Brisbane
Danielle said: Fantastic service and a great view at a great price.
3. Otto, Brisbane
David said: AGreat restaurant with friendly and attentive staff. An enjoyable casual atmosphere in the evening with lovely views, We will certainly be back.
4. Il Centro, Brisbane
Justin said: It's always a pleasure to eat at Il Centro, the food is great [and] the views are magnificent. 
5. Pony Dining Eagle Street Pier, Brisbane
Eric said: Helpful, friendly and cooperative. This restaurant is in a fantastic location with wonderful views. The menu is an impressive assortment of favourites and specialities. 

6. River Quay Fish, South Bank
Belinda said: Beautiful riverside location, fast, fresh and friendly.
7. Brasserie on the River, Brisbane
Joseph said:  Excellent river views.
8. Patina Restaurant at Customs House, Brisbane
Mark said: Great place for lunch on the river on a beuatiful Brisbane day.
9. Friday's, Brisbane
Veronica said: Riverside is a great location. Inside a the Waterline you have magnificent views and a quiet relaxed atmosphere. 
Images: La Vue, Brisbane & Customs House, Brisbane