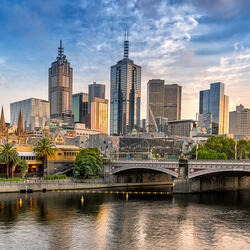 Dinner with a water view is always the best – and it's an ideal way to enjoy the sights and scenery of a city. Here are some top waterfront Melbourne restaurants that serve dinner with an impressive outlook.
1. Little Blue Restaurant, St Kilda
Esther said: Great views, tasty food well prepared. Great venue for a Saturday lunch catch up with out of town family. 
2. Cerberus Beach House, Black Rock
Anastasia said: Great views over the bay, tasty and fresh seafood and great service.
3. Mr Hobson, Port Melbourne
Diane said: Great location, great service and food. 
4.The Atlantic, Southbank
Harry said: Loved it! Will be back again.
5. Kobe Jones Melbourne, Melbourne
Anita said: Friendly service, delicious food and great dining atmosphere. 
6. Ludlow Bar & Dining, Southbank
Sam said: Being right on the banks of the river set a great tone for the evening. 
7. Pure South, Southbank
Sara said: The most amazing food and the most amazing view.
8. Berth Restaurant, Docklands
Tania said: Always good food, never disappoints.
9. The Meat & Wine Co., Southbank
Jake said: I am a big fan of this place. Never disappointed. 
Images: Waterfront Station Pier Restaurant, Port Melbourne & La Republica, St Kilda