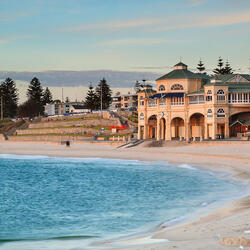 The best waterfront dining in Perth
Perth has really got it all when it comes to waterfront dining. A lush river and beautiful sandy white beaches, these restaurants are hard to top. Check out our top waterfront dining restaurants in Perth.
Cblu at Ocean Beach Hotel, Cottesloe
Amber said: "On a wet and windy day, Cblu is a haven of warmth, great service & good food. We were made to feel very welcome by staff who attended us very well and the food was delicious."
Mister Walker, South Perth
Allison said: Great location with superb views.
Sweetwater Rooftop Bar, East Fremantle
Jennifer said: Stunning views, creative and interesting menu. Fresh flavours. A wonderful dining experience.
Blackbird Restaurant, East Perth
Michela said: Beautiful place with great service. 
The Boatshed Restaurant, South Perth
Andrea said: Gorgeous views of the Swan River, best service and beautiful food. 
The Reveley, Perth
Johan said: Very nice views and great food! Friendly staff as well!
3 Sheets, Hillarys
Eileen said: Great service, atmosphere & food. 
The Royal on the Waterfront, East Perth
Jess said: Fantastic view in East Perth and the food was amazing. Would highly recommend.
Coco's Riverside Bar & Restaurant, South Perth
Philip said: Staff very friendly and great service. Food first class what a great way to enjoy a perfect lunch overlooking the beautiful swan river. 
Mister Walker, South Perth
Callum said: Superb outlook, attentive service and tasty food.
Amano Restaurant, Perth
Susan said: Great food. Great service. Great views.
Images: Blue Duck Restaurant, Cottesloe & Salt on the Beach, North Fremantle