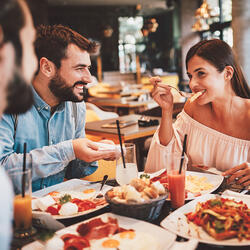 Best Waterfront Dining Spots in Tasmania
We've compiled a list of our favourite waterfront restaurants in Hobart, Launceston and along the East Coast. Whether you're after a fancy spot for your next special occasion, some serene beachside dining or a post-meal dip in a pristine marina, waterfront dining is the way to go.
This Hobart dockside venue tells the story of Tasmania's history and the life of the early industrial pioneers in mining, whaling, fishing, boat building and farming. While the menu has a seafood focus, they also offer a full vegetarian and vegan menu as well. 
Established in the 1970s, this seafood institution serves internationally reputable seafood accompanied by stunning views from its elevated position above Victoria Dock. The restaurant provides the finest Tasmanian produce, most of which is hand-caught on its fishing boat daily. Accompanying this is an eclectic wine list, showcasing winemakers both within Australia and internationally to bring out the beauty in each dish. 
Situated at the tip of Mona (Museum of Old and New Art), The Source presents you with a seasonal menu and breathtaking views. The French-inspired cuisine is complemented by a world-class wine list, and a must-try for creatives, combining Tasmania's finest art and produce into one elegant destination. 
Situated in an old timber flour mill with extraordinary views of the serene Tamar River, Stillwater oozes casual elegance. Choose to dine informally during the day, or indulge in a more linen clad experience at night. Expect to see adventurous Modern Australian dishes, with some quirky Asian and European influences, on both the a la carte and degustation menu. Here you're guaranteed top notch local produce, stellar service and one of the best views in Launceston.