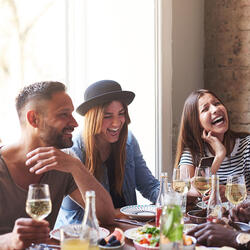 Brisbane Cheap Eat Restaurants
Strapped for cash? Fear not, eating out doesn't necessarily mean you have to splash a lot of cash. Try these venues and dishes to save money on a Tightarse Tuesday.
Image: Sails Bistro, Manly
Pop down to Manly's Sails Bistro for a relaxed lunch, without the high price tags. We've got a special place in our heart for the double beef and bacon burger, tandoori chicken pizza and garlic prawn twisters. It's immense.
To save a buck or two, dine in the courtyard or street cafe area at Regatta Hotel (the restaurant menu is more on the pricer side). On the courtyard menu you've got share food and pizzas. There's dumplings, pulled pork sliders, mezze plate, chicken wings, nachos, cheese board and more. And nothing is over $20! The Street Cafe menu is slightly different with steak, fish & chips and salads also up for grabs. Again, nothing creeps above $20. You beauty.
For an affordable meal at The Alliance Hotel we love getting right around the Bar Menu. Whether it's pork scratchings, ploughmans pork pie, chicken parmy, thai beef salad or their delicious - must-have duck spring rolls all meals are tasty - and won't break the bank. Just watch the alcoholic beverages - that's where you will undo all your good work.
Dining out can be done on a budget, if you're smart about it. The Feed Me comes with 2 grilled corns, 1 sweet potato chips, 2 tacos and 1 abundance bowl at Comuna Cantina is a main designed to share, which means you and one other can be well fed for $45. Split the fried haloumi chips with chipotle aoli instead of ordering a drink and you're laughing. Dinner done.
If you're in the in need for a feed that's delicious, filling and well priced. Dining at Corbett and Claude is where you need to be. Almost everything on the menu costs less than $20, if you're finding it too hard to decide the Feed Me menu comes in at only $39 per person and the team will decide for you.
Zeus Street Greek, Brisbane
Many tout that this place has the best pitas in town and we have eyes for the Classic Tzimmy and Loukoumades. A pita will cost you no more than $15, you won't want to miss out!