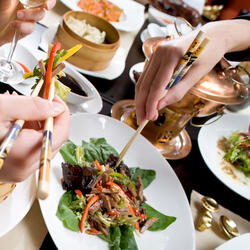 Your New Year celebrations aren't over just yet. Chinese New Year was on Tuesday 5th February and what better way to celebrate the Year of the Pig, than to tuck into some steamy noodles or tasty dumplings. In fact, we think it's a great idea, whatever time of the year.
Image: Mr Wong, Sydney
Located on the second level of Cruise Bar, Sydney's Junk Lounge boasts stunning views of Circular Quay, complete with the iconic Sydney Opera House. Sip on a cocktail or enjoy a glass of wine as you take in the harbour views. Its Asian-inspired tapas-style menu offers everything from crab steamed buns and Malay satay chicken skewers to Thai vegetable dumplings.
Peking duck fans, listen up – if there's one place you should visit in Melbourne, Quanjude on 299 Queen Street is it. They use a special recipe which originates from China's Qing Dynasty, all the way back in 1864. Quanjude now has a home in China, Hong Kong, Taiwan, Canada and Australia – and delicious doesn't cover it.
While the restaurant does offer other dishes including beef, seafood and noodles, the duck is the main attraction. Want to feel as though you've stepped into Asia itself? The restaurant's scarlet and gold décor, Chinese lettering-adorned walls and set menu of some of their tastiest dishes help you do just that.
Man Mo is a trendy hot spot in Melbourne's World Trade Centre, on the banks of Yarra River no less. Inside, red Chinese knottings dangle from the ceiling and are complemented by striking dark and orange woods, Oriental-themed wallpaper and golden light fixtures.
The food doesn't disappoint either. Starters range from mango kataifi scallops and Tasmanian Pacific oysters to crispy soft shell crab. Dig into Yum Cha dim sum, satay beef skewers and fragrant Malaysian lamb curry – and that's barely scratching the surface.
Or Natural Nine, to be exact, and you'll find it in an unsuspecting place – nestled behind a grand chandelier bar in Casino Canberra. Its fine dining is reflected in the restaurant's dove grey hues and elegant marble tables while the menu boasts authentic Asian dishes, with a modern Australian touch. There's native pepper leaf beef and warrigal greens, asam chilli squid with okra, duck and broccoli fried rice and 20 other dishes that will make your final decision increasingly difficult.
If you're looking for a good-time place to host a whole lot of people, Golden Palace in Fortitude Valley is a pretty safe bet. There are two private dining rooms, complete with karaoke, that can host 10 to 80 people. The dining hall can accommodate up to 300 party goers and there's a stage, dance floor and disco lights.
Dig into all your favourite dishes – dumpling soup, honey chicken, pork buns and sizzling fillets are all par for the course. Gluten-free eaters and vegetarians are well catered for too, and each have their own menu. And let's not forget the Yum Cha, which is available all day!
Dinner and the races make a surprisingly good mix – at least Gloucester Park in East Perth thinks so. Feast your eyes on the banquet available at Beau Rivage – you'll feel as though you've won big at the races. Set atop the JP Stratton Grandstand, you'll be dining with sprawling views of the entire race track with idyllic Swan River in the background.
While the buffet usually offers mouth-wateringly good seafood, they're mixing it up this Chinese New Year. A wide variety of Chinese food will be on offer and trust us, you'll definitely want to be in line for that. In fact, we'd put a bet on it.
When: 22 February
Deal: $55 pp (+ entry to Gloucester Park and race booklet)
If fancy Asian fare is what you're into, make a beeline for Mr Wong's in Sydney's CBD. You'll find this ever-popular restaurant spacious and intimate, simultaneously. Think French colonial glamour – exposed brick walls, dim lighting, moody jazz and heavy wooden beams.
The menu boasts 80 items – with the BBQ duck taking centre stage – and ranges from delicious dumplings to salt and pepper lamb cutlets, steamed Hokkaido scallops and egg noodle lo mein. Don't leave without trying the black truffle fried rice or steamed mudcrab and prawn dumpling with caviar!
Welcome in the Year of the Pig at Canberra's quirky but oh-so-cool, XO Restaurant. This upmarket Asian street food eatery takes a playful twist on classic flavours and culinary traditions.
Celebrate the Year of the Pig with an unforgettable dining experience. The unique eight course tasting menu highlights the very best local and regional produce.
When: 5 - 23 February
Deal: $88 per head