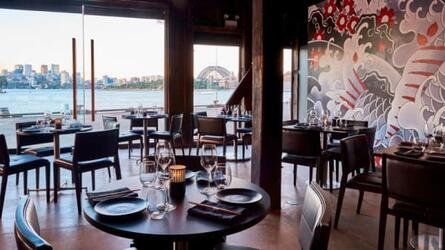 Victor Liong and Chase Kojima Bring An Ancient Cuisine To Sydney
"Ramen is not Japanese, neither is gyoza," explains Victor Liong.
"These are two mainstream dishes heavily influenced by Chinese, although most people think of it as Japanese cuisine."
Victor Liong, restaurateur and head chef at Lee Ho Fook, together with friend and business partner Chase Kojima of Sokyo, are looking to enlighten diners about the ancient old cuisine, Chuka Ryori, with their restaurant Chuuka.
Kojima approached Liong to start a restaurant with the Chuka Ryori concept in mind, which he was excited about.
"The thing that piqued my interest was the location. Chuuka is in an iconic, heritage-listed building in Sydney, right on the water, and it's beautiful. The space is in a warehouse, so you have that industrial feel, but also we put our own character into it too," says Liong.
Chuuka combines Liong's famous Chinese cooking, with Kojima's well-known Japanese techniques praised at Sokyo. Together, they've invented a menu that marries their skills and flavours to produce a well-executed menu of Chinese flavours with Japanese precision and plating.
What does that entail? Think tempura yuzu chicken with a sweet and sour yuzu sauce from Chase, but also salmon sashimi, dressed in citrus and topped with ribbons of cucumber. There is also wagyu flank, a Tenshidon style fried rice with blue swimmer crab and scallops, and steamed toothfish with silken tofu.
To share, you can order a Peking duck whole or half, served with six different sauces and steamed pancakes to make your own duck pancakes at the table.
"The Peking duck is always a favourite," says Kojima.
To read more about CHUUKA, click here
To book, click here