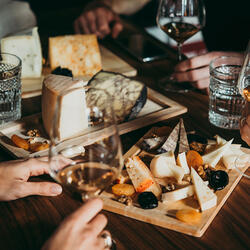 Here are our predictions for the culinary trends set to dominate global dining in 2019. TheFork Dining Out Trends* highlight the year on year shift in diner expectations and restaurant offerings, with the following seven trends leading the charge in 2019.
Sensory thrills beyond a snapshot
 Social media has revolutionised the food industry, with restaurants curating menus for maximum social impact. Now, Instagram Stories, Facebook Live and YouTube have extended this trend beyond a single snapshot, with dining experiences that work well in videos reigning supreme. Restaurants now create plates and beverages with theatre (and video views) at their core.
Bringing this trend to life is Melbourne's Rare Hare, located on Victoria's Mornington Peninsula. With a location to "ensconce in, not just see", the restaurant offers consumers a visual experience made for the 'Gram. The restaurant, defined by 'aspect, soil and toil' has an expansive vineyard attached to the property, while beautiful cocktails such as the High Sparrow and a wood fire pizza oven in the middle of the building add to the video appeal.
Technology continuous growth
There has been an increase of technological tools designed for catering both in the backend and in the front end. Drone delivery, robots, app-based checkout, and more; the dining space is increasingly using technology to improve efficiency for consumers and staff. In some cases, tech becomes part of the experience.
TheFork Managing Director Jared Chapman says, "TheFork is a great example of using technology as part of the exploration and discovery phase of dining. We've created a place where diners can be inspired and delighted, and save time and money in the process. With so many exciting developments in the dining space in Australia, TheFork is proud to be part of bringing restaurants and diners together in the simplest and best way."
A new multifaceted transparency
Food service that is transparent about the sourcing, origin, growing and processing methods of food. This includes more transparency around business operations, including pricing, compensations and corporate performance, as well an emphasis on fair trade, diversity and environmental impact.
Victoria's Project 49 brings to life the food of the local producers of Beechworth and Collingwood, supporting small scale producers and farmers in their local surrounds and working to incorporate seasonable produce such as honey, cheese and homemade pickles, as well as locally-produced wine.
Meanwhile, Sydney's The Botanica, is committed to using local growers and farmers to provide its sustainable produce. Its expansive garden and 65-acre farm in New South Wales' Jamberoo Valley provide ample ingredients for their offering; simple menus that are shaped by the seasons.
Free-from to the extreme
The rise of plant-based dining and expanding the offering for specific food needs, is informing and influencing a restaurant's entire operation, including the increase of zero-waste and sustainability policies and philosophies.
It's no surprise that Sydney is hot on the uptake with plant-based dining, and chef Matthew Kenney's Alibi is no exception. Avocado tikka, watermelon poke and vegetable carpaccio are just some of the ways this dynamic restaurant are bringing spark to clean eating. There's even a plant-based high tea promising a decadent sweet/savoury mix – with champagne (and without the guilt).
Not meals, but experience
When eating out, diners are looking for more than a meal. There is a rising demand for experiential or 'narrative' dining, including themed restaurants, multi-sensory dining experiences and temporary – sometimes obscure – pop-up restaurants.
With its candy pink front door, wall murals, and pastel-coloured booths, Daisy's, nestled in Sydney's Inner West, takes diners straight back to the old-school Aussie milk bar. Think gourmet waffles, milkshake and sundaes, as well as a range of jewellery and accessories made by local designers.
Natural enhancements and healthy restaurants
The superfood trend is going even further with the introduction of functional ingredients and culinary experiences to benefit the body and mind, such as collagen for beauty, cannabis for relaxation and karkadè for stress relief.
Growing consumer knowledge
Diners will keep taking extra steps to learn more about where and what they eat – particularly with the help of technology, for example using DNA data to create meals catered to personal genetic codes and apps to help diners identify unfamiliar ingredients.
It's a trend that's also seeing new realms of ingredient appreciation, similar to the likes of coffee and alcohol. With tea-infused pastries, tea-sangrias and marTEAnis, Tavalon Tea Lounge in Queensland brings consumers a new way of looking at tea, elevating the knowledge and appreciation of the brew through its exploratory concept.