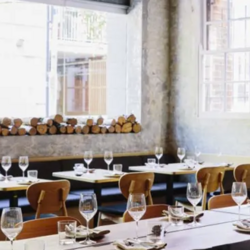 Lennox Hastie, Chef/Owner of Firedoor in Sydney, is fascinated by fire. The open kitchen at his restaurant has two wood-fired ovens, three grills and a wood-burning hearth and uses no gas or electricity. We chat to Lennox about his passion for cooking, food and fire...
Lennox spent his early career working at Michelin Star restaurants in the UK, France and Spain, but as he honed his skills in these kitchens, he began to lose sight of what he loved most about cooking: the ingredients.
Working under Victor Arguinzoniz at Etxebarri, a small asador in the Basque country near Bilbao, was a turning point for Lennox.
Etxebarri had a strong tradition of wood-fired grilling, pushing the limits of what could be cooked over a wood fire. He was exposed to a unique form of cooking that was beautifully complex yet simple, one that highlighted ingredients in their most natural state. What began as one year at Asador Etxebarri soon grew into five.
Returning to Australia in 2011, Lennox was ready for his next challenge. In April 2015 he opened Firedoor in partnership with the Fink Group.
How and why did you become a chef? When did you realise that was going to be your life's path?
I went into my first kitchen when I was 15 and, whilst still at school, gained experience at a one-star Michelin restaurant (Gravetye Manor) in Sussex, England. The transformation from the raw to the cooked was magical.  I still remember that first day in the kitchen, and being absolutely exhausted but exhilarated and hungry for more.
How would you define your cooking?
A celebration of Australian ingredients cooked over fire.
Who is your greatest cooking mentor and what did that person teach you?
Victor (Bittor) Arguinzoniz who opened my eyes to the simple beauty of cooking with fire and taught me to always listen to the ingredient. When I first found myself at Extebarri I had to converse with Victor through food and action, I had to learn through osmosis and really have almost an emotional response to the produce. That's what I mean by listening to the ingredient.
Cooking with fire is a big part of what you do. Is it just a glorified barbecue or is it more subtle than that?
Cooking with fire is everything that I do, so beautifully complex and yet so simple. It goes way beyond the barbecue; incorporating different woods and various techniques to impart an array of flavours from the subtle to the intense.
It kind of makes the backyard barbie so last century doesn't it? 
Well it's recognising the relevance of cooking with fire. It's really the evolution of the barbecue.
What effects do different woods have on how food tastes?
Cooking over wood is the ultimate flavour enhancer, with each wood imparting its own unique personality to food. Most fruit woods emanate a beautiful balance of sweet smokiness. Lighter woods such as almond and apple are best suited to delicate fish and vegetables, citrus is ideal for oily fish and the sweet brininess of shellfish, whilst gnarly grape vines imbue a rich smokiness best paired to red meat.
What's your favourite ingredient to cook with?
Wood of course – it's an ingredient in its own right.
Where and how do you source your wood? You must use a lot of it.
We do use a lot of wood, about 3 cubic metres or 100 kilos a week. We have a supplier in Blackheath in the Blue Mountains who sources wood from all over Australia. It's often wood that would be otherwise wasted. We also get wood from specific growers including apple wood trimmings from a farmer in Orange and olive wood from a farmer in Mudgee.
If you could be known for just one dish at Firedoor what would it be?
We are already known for one dish more than any others – the 172-day dry-aged rib of beef. The irony is that meat only makes up 20 per cent of our menu, the rest is fish, shellfish and vegetables. But that steak gives us the opportunity to get people in the door and it's only then they realise we're not actually a steakhouse.
What's the first thing you eat each day?
An egg from our chickens.
What would be your last meal?
Whole north Atlantic 3kg turbot grilled simply over the embers of a fruit-wood fire, a good salad, some wood-fired bread, and a magnum of 2007 Dagueneau Pouilly-Fume Silex, which was the last vintage that Didier saw from vineyard to bottle before his untimely death.
What next for Firedoor and Lennox Hastie? What should we look out for?
A regional restaurant where I can be even closer to the ingredients and have the freedom to further push the boundaries of cooking with fire.
Firedoor is part of our INSIDER by TheFork selection. A carefully curated, live list of top tier venues. The ones with hats, the ones that make the top dining guides, and most importantly the ones we know fellow TheFork diners love!