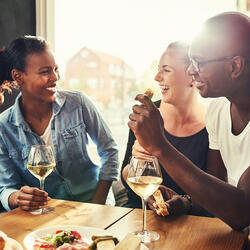 Week night TV has changed for the rest of the year. Yes, boys and girls, Masterchef is over for another year.
Some of you may be jumping for joy (bring on the Bachelor), but if you're a major foodie like us you'll be mourning the departure of this gastronomic extravaganza that has had us glued to the couch since March.
But all is not lost fellow foodies. We've listed all of the featured Masterchef restaurants that are instantly bookable on TheFork. Now, you can be the judge - who will you be George, Gaz or Matt (hope you have a cravat handy)? Let's go.

400 Gradi, Melbourne
This venue was the site of the first team challenge, the contestants had to prepare a delicious Italian feast for 250 hungry diners! Get to 400 Gradi to try the internationally acclaimed pizza prepared by chef extraordinaire, Johnny Di Francesco.
Fatto, Melbourne - Lauren Eldridge
Van Haandel Group's Lauren Eldridge shook up an immunity challenge with her honeycomb with creme fraiche ice cream! (The judges loved it). You can taste some of her yummy desserts at Fatto in Melbourne's CBD.
Koi Dessert Bar, Sydney - Reynold Poernomo
Masterchef legend Reynold wowed the judges with a mango cream dessert with spiced pineapple and lemongrass ginger consomme. Try Reynold's sweet treats at Koi - click on the link to book now.
GOMA, Brisbane - Josue Lopez
Brisbane's Chef of the Year, Josue Lopez presented a 14 element emu dish for the contestants to cook in the week 5 pressure test. Indulge in Josue's incredible nine course tasting menu at GOMA today - it's truly amazing!
LuMi, Sydney - Federico Zanellato
Federico Zanellato from LuMi appeared in week 11 of the competition in the fast-track to the finals immunity challenge (drama, drama). LuMi is ranked as one of Sydney's best, known for it's delicious Italian fare and stunning location - check it out!
Image: Atlas Dining, LuMi Dining + Long Chim.