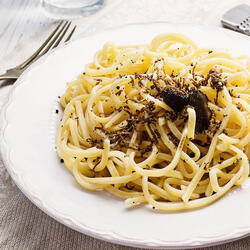 Only available for a few months throughout the year, truffles are a luxurious commodity. From casual truffle fries to blowout degustations, Aussie chefs use this seasonal ingredient to experiment every year. With only a few weeks of winter left it's time to get out and make the most of this 'black gold'.
Scroll down to see some delicious truffle dishes that we've foraged out for you!
Where to find truffles in Sydney 
Fratelli Fresh
For an Italian classic try Fratelli's gnocchi Piemontese, served with porcini mushrooms, garlic crema, spinach, and finished with truffle pecorino.
Manly Wine Bar
Truffle is a great addition to any meal, but add it to polenta, forest mushrooms, garlic shoots, parmesan and you're laughing! Head to Manly Wine Bar to get your fixe.
The Rook
Beat the winter chill with a serve of mac n cini (mac and cheese balls with truffle aioli). Delicious!
Gazebo
Sit in the beautiful garden at Gazebo and feast on bresaola, beef, shaved parmesan, fried capers, topped off with black truffle dressing.
Where to find truffles in Melbourne
Matteo's
The gorgeous Matteo is has a stunning black truffle potato croquette that you need to try before the season is over. Don't miss out on this bad boy!
Punch Lane
If you're having a cheat day, indulge in Punch Lane's twiced baked gruyere souffle with roasted cauliflower and truffled pecorino.
Fatto 
Get your Italian on at Fatto with their waygu carpaccio, truffle pesto, parmesan, aged balsamic.
Where to find truffles in Brisbane
Bacchus
Multi-award winning restaurant Bacchus offers outstanding modern Australian creations with superior service. Enjoy a stunning truffle degustation with matching wines and make the most of this seasonal treat!
Public
This sleek and sexy New York loft-style venue is one our favourite spots in Brissie. Get your truffle fixe with some of their delicious truffled pop corn!
Lutece Bistro & Wine Bar  
With a custom black truffle menu created specifically to celebrate this tangy ingredient, Lutece Bistro is the ideal place to come and indulge. It's pretty opulent, think warm pheasant with black truffle & duck foie gras boudin garnished with  juniper berries jus.
Moda Restaurant
Make the most of the remaining weeks of winter and get stuck into the hearty homemade gnocchi with wild mushroom and truffle pecorino from Moda.
Little Truffle
The name says it all. Get to Little Truffle for their incredible quail and truffle ballantine: fried quail let, parsley coulis, glazed onions & trompette mushrooms.
Where to find truffles in Perth 
Nobu
Kick-start what is bound to be a first class meal with Nobu's spicy truffle edamame. Addictive and delicious, these bad boys are unmissable.
Where to find truffles in Adelaide 
Delicatessen Kitchen
Chefs Andy Thiele and Paul Gray have created a beautiful delicatessen that will make all your foodie dreams come true. Try their delicious pan roast duck leg & breast with salad Lyonnaise or and truffle sauce.
2nd & 6th
2nd & 6th is a place to gorge yourself, giving up the predisposed notions of self-control and managed consumption. Here you can go all out. Indulge in their sensational 250g grass fed scotch fillet served with Bearnaise sauce and our famous hand cut truffle chips.
Coal Cellar & Grill
Bringing it back to basics and true to their name, Coal Cellar & Grill celebrates the best of South Australia's produce using a variety of cooking methods including the feature charcoal grill and rotisserie. Get a load of their free range bacon which comes with cheese, tomato, lettuce, truffle aioli and fries.

Rusco & Brusco
This traditional Italian eatery is just what the doctor ordered. Those craving some truffles will be well tatisfied with the penne al tartufo and marscapone (Italian truffle and mushroom sauce with marscapone cheese). Buon appetito!