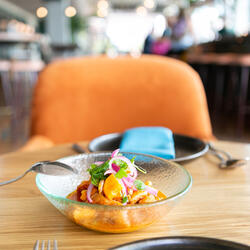 Sydney's best ceviche dishes
Tangy ceviche is the BOMB on a hot day. So get to one of these awesome restaurants and chow down on tangy, refreshing, ceviche and counteract that summer heat.
With a section of the menu devoted to ceviche, Mejico is THE spot to go for some fish-tastic grub. Get here and eat your way through the whole list which features Reposado tequila-cured salmon, sashimi grade tuna with cucumber, avocado, capsicum and ginger or scallop with avocado, pomegranate, jalapeno and crispy shallots.
With a beautiful outlook over the Sydney skyline and a beautiful decor The Butler is hard to fault. And their cured kingfish, fennel and pickled cucumber is just the icing on the cake.
Manta is basically the Rolls Royce of eateries on the Woolloomooloo finger wharves. Roll on in and grab their Moreton Bay bug meat, two minute ceviche, lime, horseradish and fennel and start your meal off with a bang.
You'll feel like you're in Mexico as soon as you enter El Topo - yep, this place has done a pretty good job of seducing Sydneysiders with its Latin American charms. Get here and share a plate of kingfish ceviche which comes with red onion, coriander, cherry tomatoes, radish, palm heart and coconut foam. Yumo!
Quirky and contemporary, Flying Fajita Sistas is the ideal spot for a meal with mates. Try their awesome lime cured snapper with mango, grapefruit, chilli and corn chips.
While most come to The Norfolk to booze and stuff themselves full of crab we come for their ceviche & guac which comes with blue corn chips chilli and lime. Gimme, gimme.