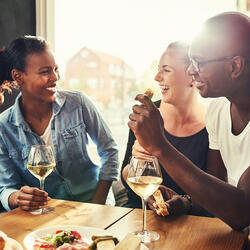 We've compiled our top 9 restaurants in Launceston so you can start eating your way through the best of Tassie's northern food hub. From waterfront dining to vineyard eateries and homely cottages, these are spots to cross off your restaurant bucket list.
Image: Stillwater, CBD
Mudbar Restaurant, Seaport Boulevard
Situated in Launceston's Seaport Boulevard, Mudbar is a local favourite with a menu packed full of flavour. Enjoy some of Tasmania's finest Porcelain Oysters, followed by Soy-cooked Pork Fingers with Iceberg Chiffonade and maybe even Vitenamese Banana Cigars to top it all off. You could even opt for the five course tasting menu - you won't regret it. 
Wine Bar-turned-restaurant, Penny Royal is one of Launceston's finest. Hidden away amongst the lagoon of the Penny Royal Village, this is the perfect spot to relax over a Tasmanian platter and a glass of local wine. We'd suggest the 'Royal Lunch' for a bargain $25, followed by a dessert platter full of your favorite treats. 
Novaro's offers provincial Italian dining in a lush renovated Edwardian homestead. You will be warmed right through when you enter the intimate firelit dining room decorated with the colourful, abstract drawings of renowned local artist Junko Go. The specialty here is local produce which forms the backbone of both the food menu and the wine list. Dishes such as the Tasmanian Green Lip Abalone in white truffle oil are complemented by a wide range of Tasmanian varietals.
Situated in an old timber flour mill with extraordinary views of the serene Tamar River, Stillwater oozes elegance. Choose to dine informally during the day, or indulge in a more linen clad experience at night. Expect to see adventurous Modern Australian dishes, with some quirky Asian and European influences, on both the a la carte and degustation menu. Here you're guaranteed top notch local produce, stellar service and one of the best views in Launceston.
Josef Chromy, Relbia
A ten minute drive from the Launceston CBD, this restaurant offers an ideal experience for the wine loving foodie. Outdoor dining with panoramic views of the Josef Chromy vineyard, manicured gardens and a glistening lake makes for an ideal long lunch spot. The modern menu features Tasmanian produce prepared with an Asian twist – good examples are the Miso glazed trout and the Bay of Fires cheddar with smoked pear and toasted nori.
Cinnamon Indian Restaurant, CBD
Dine at Cinnamon when you are in the mood for outstanding, authentic Indian cuisine. The vibe of this family run business is low key, homely and comfortable. Regulars rave about the delicate flavours and elegant textures of dishes such as the tandoor salmon. If you're after a huge selection of powerfully flavoured, traditional Indian delights served quickly in a relaxed setting, then this spot is for you.
In what is somewhat of a trend in Launceston, the highly awarded Brisbane Street Bistro is located inside a charming Victorian style townhouse. The fare is classically French, with some interesting Tasmanian influences. All beef and lamb served is free range, game is wild shot, fish is either sea farmed or caught from the wild, and zucchini flowers are freshly picked after they're ordered. Whether you try the six course degustation or choose from the a la carte menu, this humble spot is ideal for your next special occasion.
This upmarket steakhouse is warm, inviting, and full of personality. The menu is simple and showcases the best of Tasmania's steak alongside some lighter entrees. Go to Black Cow when you're after some premium quality grass fed, dry aged, free range and artificial hormone free Tasmanian beef, accompanied by a well matched wine (or three). Knowledgeable, friendly wait staff and indulgent desserts complete the Black Cow experience.