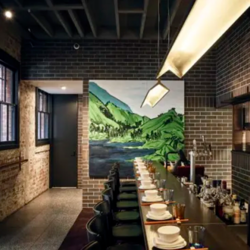 We chat to Victor Liong, from Lee Ho Fook in Melbourne's CBD, about... Originating from Sydney, Victor has worked with some of Sydney's most innovate chefs; Harunobu Inukai, Mark Best and Dan Hong. Cooking a new style of Chinese food, he uses skills and techniques garnered from years with Japanese, French and modern cooking styles.
You were planning to be an accountant. What turned the tables and made you trade your calculator for kitchen knives?
I don't think I ever planned to be an accountant; I went to university to do some kind of business degree. I always wanted to be a chef, I liked the idea of working with my hands, working nights, creating and studying food, being part of a cultural landscape and doing a creative craft that one could master over time with repetition. So when I finished university I apprenticed as a chef at a French brasserie in Sydney.
What are your strongest memories of your first kitchen job?
I worked on and off in food before I took on my apprenticeship. I was obsessed with European food, so I really enjoyed discovering anything French or Italian. I remember when I first learned how to make a mayonnaise on a commercial scale.  Doing quite classical preparations was a real joy, the kind of things that aren't very popular nowadays because they take time and a lot of labour: things like puff pastry, terrines, compotes and jams. It was a really nice time, the teachers were tough but the knowledge was really nice to have.
You grew up in Sydney and have worked in both Sydney and Melbourne. You have been reported as saying they are like different countries. Why is that? Is it the place or the people?
We forget Australia is a continent. The cities share similarities but they can't be compared. When the idea of a rivalry is raised it's like comparing London to Berlin - the food, the sensibilities, the people, the leisure value, the geography. They're distinctively different. I find that Sydney is a city with a lot of beautiful natural highlights, it's very easy to feel and be a part of that, whereas Melbourne has a different type of beauty that's woven into the fabric of things and places. In Sydney I feel like I look out and experience, in Melbourne I tend to stare inwards and discover.
Who is your greatest cooking mentor and what did that person teach you?
Professionally I have been lucky to work with many talented and visionary chefs. They've all helped train me to be a better cook, but I think the most impactful chef I've been mentored by is Mark Best. He's taught me and advised me on cookery, creativity, finding my own voice in food and given me a great lens to be creative. Saying that, I think Dan Hong is the most important chef I've ever worked for, without his trailblazing work there wouldn't be such a high level of development and value placement on Asian cuisine in this country.
You have worked deeply in both French-inspired fine dining and modern Asian cuisine at Lee Ho Fook. Do you identify with one style or philosophy more than the other? How would you define your cooking today?
I cook a new style of Chinese cuisine at Lee Ho Fook. It's based off the foundation of the culture and cuisine of Chinese people in China and around the world. It's also very much a re-exploration of my cultural heritage through food and history.
The French aspect of it is the regimented organisation of the kitchen brigade and the cataloguing of the recipes and foundations of the dishes we reference or create completely.
I identify Lee Ho Fook as a Melbourne restaurant that serves my expression of Chinese cuisine. The dining scene in Melbourne is of an amazingly high quality and the operators all take it very seriously; it's a nice environment to work and create in.
What's the experience you want diners to have at Lee Ho Fook? And what are the dishes that best represent your personal style?  
The lunch experience I'd like to share with the diner is a celebration of each season and the abundance of its produce – a high quality and affordable set menu during lunch. Utilising ingredients at their peak and when they're in glut. The creativity of changing the menu weekly also involves the chefs in the brigade to cook in the season and develop an ethos around that.
What's your favourite ingredient to cook with and why? And are there any ingredients that you think are overused or overrated?
I love eggplant. It's a humble ingredient used in almost every cuisine in the world and almost always in a delicious iteration. At Lee Ho Fuk we serve it crispy with spiced red wine vinegar. I don't think there are too many ingredients that are overrated – I like them all to be honest, I even like truffle oil if used correctly.
I think the word 'umami' is overused. I always imagine it being swapped out with the word 'salty'… umami is a taste sensation, I'm sure chefs can describe the food we cook a bit better than that.
What's the first thing you eat each day?
I don't tend to eat in the mornings; I do have a minimum of two double espressos.
You're about to open another restaurant, this one a Japanese-Chinese hybrid, Chuuka. You're teaming up with Chase Kojima and it's back in Sydney. How are you going to handle the challenge of two venues in two different cities?
I'm always actively communicating my ideas, vision and direction. I rely on my teams in both cities. Chase and The Star have built a great team to help launch Chuuka, and the senior chefs and I have worked closely over the past 6 months to develop our vision. I'm enjoying being back in Sydney to work on this project; it's a unique restaurant and a different avenue for my creativity. In Melbourne I have my brains trust and an amazing support team of staff, advisors and mentors. I'm very grateful for the people around me.
What would be your last meal?
My last meal would be at a big round table with all my close family and friends.
It'll start with lots of small pickled vegetables and cold Chinese dishes, crunchy, cold, slippery, slithery, vinegary, oily, spicy, peppery-type starters. We'd accompany the food with vintage Champagne – Krug, Salon, Bollinger, Egly Ouriet, Agrapart - lots and lots of cold bubbles drunk from a coupe not a flute. I like the fluffy bubbles that sipping Champagne from a coupe provides.
Then we'd move onto a big pot of masterstock-braised meats and loads of fresh herbs and condiments – and of course heaps of steamed rice and fried Chinese doughnuts. The aromatic stock would be prepared by my Mum, and it'll have all my favourites like pork belly, trotters, chicken wings, game birds, tofu, pigs ears and even the overly hard-boiled eggs with the grey rings for nostalgia points. We'd wash it all down with ice-cold German reisling and magnums of birth year burgundy.
We'll have soft-serve ice-cream topped with cornflakes and matcha for dessert. Along with some aged yellow Chartreuse, and maybe an espresso. One last Negroni, then pull the trigger… and please don't miss!
What would Victor Liong's culinary tombstone say?
'He loved to cook'.
Lee Ho Fook is part of our INSIDER by TheFork selection. A carefully curated, live list of top tier venues. The ones with hats, the ones that make the top dining guides, and most importantly the ones we know fellow TheFork diners love!