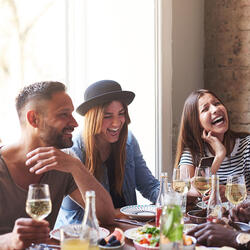 Over the last decade the culinary scene in the 'Berra has exploded, drawing in talent on all fronts to bring you some of the most vibrant and sophisticated dining options around. If it's been a while since you visited, hop on a plane, train or automobile and head back to the land of school excursions and Question Time – though be warned, you may not recognise the place!
Image: Kokomo's, Canberra
Our favourite food lover in Canberra, Emma from A Photo Before We Eat, shares her tips on where to dine while you're visiting the Nation's capital.
I'm going to let you in on a secret: Canberra is awesome! For years we suffered through eye rolls and obligatory jokes about politicians only to emerge triumphantly as the hip capital you see now. And the best bit? Our food.
Friday Night
The work week has dragged on. You were over it by Wednesday so, come Friday night, you're keen to hit the road. You need a drink in hand – pronto! Luckily, you've planned a foodie weekend escape in Canberra.
Check into your hotel and dump those bags then make your way to Buvette in Barton. A French inspired bar and bistro with a particular fondness for wine that will see you well looked after in the drinks department. With wines from all over the world, the menu contains a section dedicated to the Canberra region, featuring the likes of Clonakilla, Lark Hill and Eden Road. Every glass will be perfect thanks to their wine dispensing technology that ensures ideal conditions for every, precious drop.
Once you've quenched your thirst, food is the logical conclusion. Lucky for you, right nearby is Chairman and Yip. A thoroughly tested Canberra favourite which has recently changed location but maintained its dedication to great Cantonese food. Lauded as a pioneer of the cuisine in Australia, you'll love their modern, fine dining take. Diners rave about their duck pancakes and the eye fillet beef and scallop hot pot.
Saturday Breakfast
Rise and dine!
Morning Glory is the must-try venture from one of Canberra's hottest dining teams that brought you renowned eatery, XO. The new venue pays homage to, what they call, 'daylight dining'. Here breakfast is the star, spanning Asian and Australian cultural traditions in the process. Don't worry if you've had a slow start – their menu is available all day. Black sesame waffles, sardines on toast and avocado all get a fusion spin and the presentation is sure to impress.
Saturday Lunch
Describing themselves as 'fine-ish' dining, Tipsy Bull in Braddon welcomes you to settle in for a long lunch. When it comes to eating, is there anything more inviting than a table filled with share platters? Try the lamb picanha or snapper with coconut lime crumb and a salad on the side. For those still full from brekkie they also offer smaller tapas plates like crispy spiced squid. And with a name like Tipsy Bull, you knew the drinks list was going to be impressive... but did you expect a six page gin menu? Let your glass do the globe-trotting with some of the world's finest alongside those of Canberra's proud local distilleries.
Saturday Afternoon
If you're a food lover, holiday activities are just ways to fill the time between meals – am I right? For the couple hours between lunch and dinner you could easily squeeze in some shopping or a gallery. Maybe a nature walk? Or you could take a short cab ride to the Hotel Rex and its rooftop bar, The Howling Moon. With stunning views of Canberra, vibrant cocktails and a nibbles menu that includes uniquely flavoured popcorn, vegan tacos and san choy bites, this is a hard one to pass-up.
Saturday Dinner
Image: Sage Dining Rooms, Braddon
After all that feasting today you won't even need dinner… jokes! You're on holidays, who skips a meal?!
Hope you packed a nice outfit because tonight is going to get a little fancy. On the outskirts of the trendy suburb of Braddon you'll  spy one of our fine dining highlights: Sage Dining Rooms. When a place has its own farm to supply fresh vegetables and herbs, you have permission to be excited. Quality local ingredients, masterfully prepared for maximum flavour. If you're overwhelmed with choice and can't decide between Yarra Valley Kangaroo or Game Farm Smoked NSW duck, try the five course Chef's Pick and be guided by the experts. Bookings essential.
Sunday Breakfast
Eating out for breakfast – or brunch, depending on when you wake up – has to be one of the best things about a weekend getaway. Temporada offers a solid start to the day with gourmet coffee to get you going. Before you ask, the avo on toast is superb and there's a bacon and egg roll for those who overdid it a little last night. The French toast comes with Nutella and there's an obligatory pairing of mushroom and halloumi. No further questions, your honour.
Don't believe in sleep-ins, even on weekends? Don't worry because they're  open from 7:30am. You can eat and squeeze in a jog around the picturesque Lake Burley Griffin before your travel buddies even wake up!
Sunday Lunch
If Sunday comes around and all you've done is eat and drink… great! But if you're drawn to some of Canberra's many cultural and political attractions, you'll probably find yourself not too far from the suburb of Kingston and lunch at Agostinis. Set underneath the East Hotel, it brings a little bit of Italy to Canberra. Boasting an enviable woodfired oven, feast on pizza and wine, delightful pasta or try their specialty veal cutlet alla Milanese.
Sunday Dinner
On your way out of town, resist the lure of the drive-thru and secure one last, satisfying meal in the Territory. Park around the city and take a stroll down Bunda Street. There's an array of food options but, chances are you'll be drawn to the music and chatter coming out of Kokomo's. A Hawaiian themed bar and restaurant set across two levels, its palm-frond filled decor is on point and the vibe just screams 'Sunday Session'. If you're not driving, you'll love a cheeky cocktail with all the trimmings you'd expect from a Tiki bar. The menu is just as fun sporting snacks like lobster lollipops and poké bowls.
That is how you do a weekend in Canberra! You can now leave content in the knowledge that you covered all the important stuff, I mean, you can always see Parliament House next time.