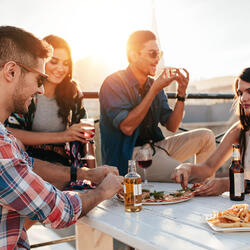 Australia Day is right around the corner and we're already planning how we're going to spend our extra day of freedom.
Whether you're looking for a lazy brunch spot, a venue for a casual lunch or a place that's filled with lots of booze and laughs we've got you covered - it's going to be an absolute ripper!

Pony Dining The Rocks, The Rocks
Widely regarded as one of the pioneers of the wood fire grill in Sydney, Pony offers an honest flavour driven menu designed to showcase prime Aussie produce. Set in the heart of The Rocks, we can't think of a better place to lunch this Australia Day.
Riley St Garage, Woolloomooloo
Perfect for boozy lunches with friends, Riley St is one of our favourite places in Sydney. The menu is off the chain, and the comprehensive drinks list, with an emphasis on rum, tequila and whiskey is right up our alley. Happy Aus day!
Otto Ristorante, Woolloomooloo
With a sweeping view of the city skyline and the harbour Otto is the perfect place for summertime dining. If you're looking for something a little bit fancy this Australia Day then this is the place to dine.
A bit of beach chic right on Manly beach, Whitewater is THE spot to be for those who are looking for a quick Aus Day dip and a spot of lunch.
Hunter & Barrel - Cockle Bay, Sydney
With a rooftop view and a killer (meat filled) menu, this restaurant is one of the most popular in the CBD area. Get your mates here, enjoy a great late lunch and a few drinks before hitting the town.