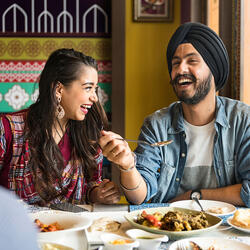 Where to go for a pre-theatre feast in Melbourne
If you're booked in for a show at Melbourne's iconic Arts Centre or scoping out the Capitol or Her Majesty's Theatre, chances are you'll want a feed either pre or post show. Thankfully Melbourne's Southbank promenade and CBD is plush with pre-theatre gems. We'll give you a whole chorus line of dining options to choose from! Check out these excellent pre theatre restaurants.
Image: Witches In Britches, West Melbourne
To spice things up pre or post show, Neil Perry's Spice Temple in the Crown Complex is one fiery delight. The dishes pack a lot of punch. Heat, spice, sourness and saltiness are all part of your culinary journey at Spice Temple. It's infectiously good.
This all day diner is ideal for a pre theatre snack and a cheeky glass of vino. With a view of the Yarra and an accessible Mod-Oz menu this place is the perfect opening act to your theatre experience.
Pure luck! Get to this cheeky riverside pop up while it's still in town. The team from Pure South have set up this temporary restaurant space and it's ideal for a pre theatre snack before heading to the Arts precinct.
Just a few minutes walk from Her Majesty's, Princess and Comedy Theatres Punch Lane gives you plenty of time to enjoy a quality feed before heading out for the night. Or stop by after for dessert and digestifs, anything goes.
Set in Fed Square Taxi Kitchen is a pleasure for both young and old. It's quality dining without being stuffy or starchy. Dishes to write home about would have to be the candied pork with coconut salad - bravo, bravo!
Surrounded by Melbourne's culinary heavyweights this cute little Italian resto holds it own, serving authentic cuisine with a modern twist. With an extensive cocktail list and flexible menu options this is ideal for a quick bite before show time!
For some ultra casual pub-grub head to The Crafty Squire. Load up on twice cooked lamb ribs, popcorn pork belly or maybe the 250g eye fillet…you'll be feeling full and ready to clap along to every musical number and laugh at every joke!
For the ultimate dinner-and-a-show combo, get to Witches in Britches. For over thirties only, this spooky dining experience includes a tour through the tunnel of terror, a three course meal, a live comedy show and later on, dancing in the dungeon disco! Party, party!